About me: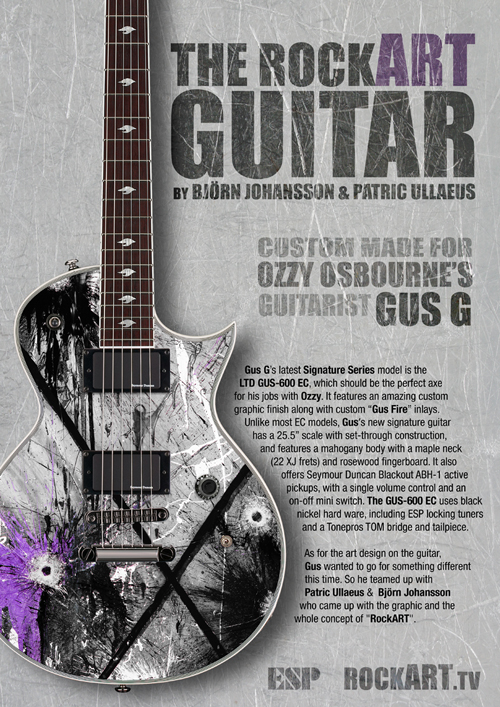 director Patric Ullaeus' showreel | MySpace Video
Patric Ullaeus is one of the most prominent contemporary music video directors working today. His cinematic styles, vivid imagination and fervent vision have taken him around the world working with talented artists, advertising agencies and record labels.
Among his clients you will find bands like IN FLAMES, DIMMU BORGIR, EUROPE, ARCH ENEMY, EVERGREY, KAMELOT, MNEMIC, LACUNA COIL, WITHIN TEMPTATION, FIREWIND, CHILDREN OF BODOM, DREAM EVIL, SIRENIA, TARA TERESA, SONIC SYNDICATE, ENSLAVED, M.A.N, NOTRE DAME, PASSENGER, KANE, TSOOL, UNION SQUARE
Patric has been honored with several domestic and international awards for excellence in filmmaking including Grammy Awards, Advertising Effectiveness Awards, Clip, US Film Festival, Otto Car, Spellemann, Swedish Metal Awards, Golden Gods Awards, among others.
Visit his company:
www.revolver.se



Sonic Syndicate | MySpace Music Videos
In November 2009 Patric Ullaeus & Björn Johansson had their first art exhibition @ RAG in Gothenburg, Sweden. The response was fantastic.
"Dynamic, Elegant, Strong, with Character. That's what I call RockArt!"
//Gus G of Ozzy Osbourne
"Heavy music needs heavy art. Patric and Björn has created something brutal yet beautiful.
Just like our music!"
//Anders Fridén of In Flames
"This is art that produces the same feelings as heavy Rock and Roll. This is really cool "
//Joey Tempest of Europe
"Björn Johansson and Patric Ullaeus creating innovative art with New York feel.
Have never seen anything like it."
//Joakim Hjerpe / Art Collector
"Machine Gun Kelly is back. Now in the Art business. Watch out!"
//Jörgen Svensson / Professor of Art
Visit:
www.RockART.tv
for more info.
More videos directed by Patric Ullaeus:

Who I'd like to meet:
Always looking for new people to work with!


director Patric Ullaeus has 7852 friends.
Revolver Film Company RFC

(r)Evolver Communication REC
REVOLVER.SE is the leading music video production company in Europe. We are always looking for new artists to work with and creative people for our REVOLVER TEAM. Mail us: revolver@revolver.se
General

Exhibitions






RockART @ Mornington Hotel

,

Gothenburg, Sweden.


Kungsportsavenyn 6, Göteborg
25 March – 2 May 2010.


RockART @ L2 in Stockholm, Sweden.
Torsgatan 9a, Stockholm
8 Feb – 8 May 2010.




RockART @ Frankfurt Messe

,

Germany.


The unveiling of the signature model of Gus G
new RockART guitar.
26 – 28 March 2010.


RockART @ LUXE Gallery in 
New York City, USA.
29 Orchard Street, New York
17 – 31 March 2010.




RockART @ Revolver Art Gallery in Gothenburg, Sweden.


Östra Eriksbergsgatan 18, Göteborg
1 – 29 November 2009. RockART.tv REVOLVER.SE PATRIC ULLAEUS.COM



Music

The Company:

Specializing in the production of high profile cutting edge music videos, Revolver Music Video has grown to become one of the most important producers setting industry standards for quality and innovation.

The Director:

RMV represents Patric Ullaeus worldwide and provide a foundation for his unique vision of high-end film production & photography. We serve as a platform from which his music video and band photography services are offered. Patric Ullaeus is one of the most prominent contemporary music video directors of today. He has produced a wide variety of videos, helped a lot of artist to reach their visual goals and has won practically every type of award of the industry.

Facilities:

Revolver own and operate a 4,

300 square foot film studio

,

complete with a green-screen studio

,

still photography studio

,

full HD editing and post-production suites.

Located in Gothenburg

, Sweden. Available for work all over the world. Mail to:

revolver @ revolver.se

Here's some of my work:

Movies

Going to direct a new movie for RFC in 2010. Looking for actors right now. Send your applications to casting@revolver.se

Television

Books

My latest book:

Creating RockArt

with Björn Johansson & Patric Ullaeus.

Can be ordered via

www.RevolverArtGallery.com